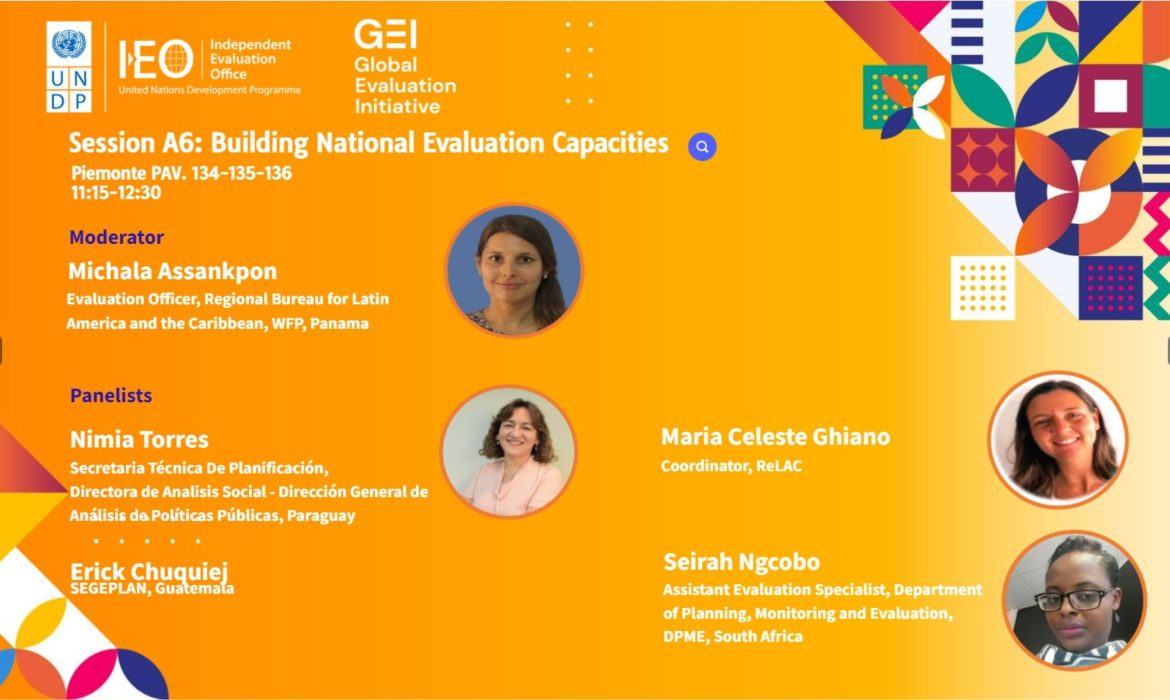 The United Nations Development Programme (UNDP) hosted the National Evaluation Capacities (NEC) Conference in Turin, Italy from the 25-28 October 2022. There were more than 300 participants from over 100 countries, representing national governments, development partners and the international evaluation community. All these role-players  gathered to discuss the development of resilient national evaluation systems that inform and support policy and other decision making in a rapidly changing and ever-more complex world.
At this conference, I participated in a panel discussion on capacity development initiatives aimed at supporting National Evaluation Systems (NESs), with representatives from three other countries, namely, Paraguay, Guatemala, Panama. I shared my experiences from the various capacity development initiatives undertaken by the South African Department of Planning, Monitoring and Evaluation (DPME) in collaboration with other African countries under the Twende Mbele initiative, the National School of Government (NSG), CLEAR-AA, and others.
The presentation was well received by participants and fellow panellist. And some of the issues that came up in the Q&A session include:
The importance of multi-disciplinary skills and capacities in evaluation teams
Agility of evaluation teams and skills required to undertake evaluations
Ability of evaluators to translate evaluation findings and recommendations to respond to needs of political principals
Technical evaluation competencies and soft skills needed to sustain the supply-side of NESs
Technical competencies are key to evaluation practice. Key amongst these is the ability to systematically gather, analyse, and synthesise relevant evidence (data and information) on the evaluand (e.g. policy) from a range of sources, identifying relevant material, assessing its quality, and spotting gaps.
The following technical and soft competencies were recommended:
1. Design and Evaluation methodology
Understanding the knowledge base of evaluation (theories, models including logic and theory-based models, types, methods and tools) and how this would impact on appropriate evaluation designs and understanding of current issues in evaluation methodology. And, using specific research methods and tools that address the evaluation's research needs, this may include qualitative, quantitative or mixed methods. For a particular evaluation, these should be specified.
2. Data collection and analysis competencies,
The ability to systematically gather, analyse, and synthesise relevant evidence (data and information) from a range of sources, identifying relevant material, assessing its quality, spotting gaps. And equally so, the ability to interpret the findings and reach valid, defensible, and transparent findings that address the evaluation questions. Critical thinking is key in analysis.
3. Resource Management:
This is the ability to develop an appropriate budget for an evaluation and when necessary to negotiate evaluation budgets with an understanding of how budgets influence evaluation designs.
4. Managing and Commissioning Evaluations
This requires effective leadership and managerial skills on the part of the commissioning institution. Team leaders need to have the ability to manage the evaluation process in such a way that it maximises the impact of the process as well as the quality of the evaluation product.  Good leadership comes with the ability to motivate stakeholders to commit time and resources and work together to undertake the evaluation and ensure use.
5. Communicating Evaluation Findings and promoting use:
This involves the ability to provide guidance to others within and outside the organisation on how to reflect on and use evaluation findings effectively; Understanding how to promote or support the use of evaluative evidence through follow-up and tracking of evaluation recommendations; mobilising stakeholders to ensure utility of the evaluation findings by decision/policymakers, who are the users of the evaluation report; developing management response and improvement action plan templates for policy or program decision-makers (managers or policymakers) is an important evidence-utilisation mechanism to be championed by evaluators and other evaluation stakeholders; and lastly, monitoring the improvement.
6. Contextual and Theoretical Knowledge
The evaluator should understand the specific intervention, how and why it was developed and implemented. Furthermore, evaluators are expected to possess the following soft skills:
Cultural Sensitivity, which is the ability to provide, as an individual evaluator or part of a team of evaluators, credibility in certain contexts and societal settings.
Ethical conduct, which involves protecting confidentiality/anonymity of respondents, and obtaining informed consent from evaluation participants.
Stakeholder management, including the ability to undertake suitable negotiation and conflict resolution processes to handle challenges emerging during the evaluation.
To end, I believe, sustaining the supply-side of NESs involves investing and nurturing individual  technical evaluation skills and soft skills, as systems are composed of various interconnected parts (stakeholders).