At the heart of Twende Mbele is a desire to move beyond a network of people just sharing experience, toward a partnership where countries collaborate on developing and implementing M&E systems that improve government performance and impact on citizens. Twende engages with a variety of national governments who are interested to use M&E to strengthen government performance and accountability to citizens.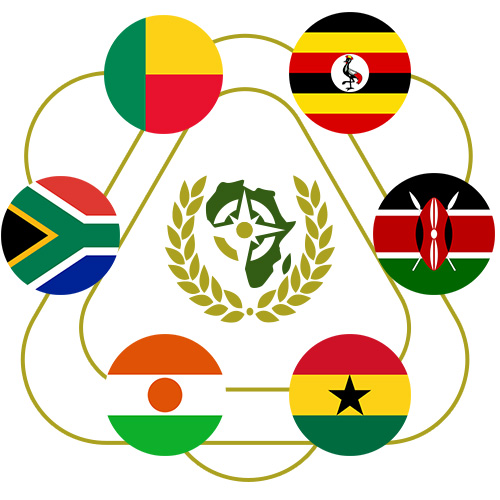 The Twende Mbele Programme currently involves six core country partners (Benin, South Africa, Ghana, Uganda, Niger and Kenya), with two regional evaluation capacity development partners (CLEAR Anglophone Africa and IDEV at the African Development Bank). Eight other countries actively form part of the wider learning network. These partners are learning from each other, and more widely, around how more effective monitoring and evaluation (M&E) systems at all levels of government can strengthen government performance.
Twende Mbele (meaning Going Forward Together) is a peer learning partnership of African governments and regional organisations interested to use monitoring & evaluation (M&E) to strengthen government performance and accountability.
2012
Idea
March 2012 Benin, Uganda and South Africa meet for the first time at a workshop and start collaborating around evaluations. Formed an informal peer learning grouping.
2016
Inception
DFID began funding a formal peer learning programme.
2017
Launch
Twende is launched at the AfrEA Conference 2017
2017
Programme Funding
William & Flora Hewlett Foundation start funding the programme.
2018
Twende Expansion
Ghana joins as a core country partner.
2020
Partners
Niger and Kenya join as core country partners.
2021
Theory of Change
Redeveloped and adopted a new theory of change, born from past experiences and changing context.
2022
New Project
Twende Mbele launched a new project for improving the use of M&E evidence in development planning and budgeting processes.
The Twende Mbele programme is directed by two spheres of Management Committees; the Strategic Management Committee and a Technical Management Committee. Both management committees consist of core country representation, as well as technical partners IDEV at the African Development Bank, and the Centre for Learning on Evaluation and Results Anglophone Africa (CLEAR AA). The Strategic Management Committee endorse the annual action plan, and set out the strategic direction for the programme. Members of the Technical Committee are responsible for implementing a significant number of in-country activities, and ensuring ongoing learning and sharing. The Programme is managed through the secretariat hosted by CLEAR-AA, University of Witwatersrand in Johannesburg.
A PEER LEARNING PARTNERSHIP
Our peer learning approach is an innovative way to produce results in a complex and changing environment.
Each of the partners are leaders in developing national evaluation systems in Africa, and as such seen as leaders in the evidence field. All Twende activities are part of each countries' government priorities, and thus bring high-level buy-in.
Twende is able to be flexible and adaptable to changing situations in each country. Activities are intended to complement their current operations, permitting partners to learn from each other as well as other countries, and improve their M&E operations.
The partnership allows for real-time learning for partners as they innovate and experiment with building M&E systems and capacity of stakeholders throughout the evaluation ecosystem.
A Wider Learning Network
Beyond the core country partners, Twende seeks to provide a platform to catalyse learning from other countries in Africa, and more broadly. Sharing and learning is a core mandate, meaning we try to capitalise on existing learning events, while also hosting our own.
Additionally, Twende has partnered with CLEAR AA to run a regional peer learning program with parliaments, a collaborative curriculum and practitioner competencies for Universities across the continent, and building capacity with Civil Society Organisations. These collaborative projects allow us to boost the reach of our peer learning activities, and build champions within the wider evaluation ecosystem.
Gbetoton Nadege Djossou

Technical Management Committee Chair

Gbetoton Nadege Djossou is the Director of Public Policies Evaluation at Ministry of Development in Benin. She holds a PhD in Economics in 2017 at University of Abomey-Calavi, Benin. She is also an Assistant Professor at University of Parakou, Benin. She has over 8 years' experience in evaluation of development projects in sub-Saharan Africa. She had been the Benin's country coordinator of Twende Mbele from 2019 to 2022.

Gérard M. KPATINDE

Strategic Management Committee Chair

Mr Gérard M. KPATINDE is the Director General of the Evaluation of Public Policies and the Observatory for Social Change in Benin. He is a renowned statistical economist. He is the Chairman of the Twende Mbele Programme Management Committee. As Chairman, he oversees the operational, financial and technical functions of the Twende Mbele secretariat and also provides strategic direction to the management committee.

Dr. Ayabulela Dlakavu

Programme Manager

Dr. Ayabulela Dlakavu is researcher, academic and analyst of public policy; foreign policy; international organisation; global and regional peace and security; political economy; monitoring and evaluation practitioner; academic; with extensive background in international development. He holds a PhD in Political Science (foreign policy and international political economy).

Parfait Kasongo

Communication and Learning Coordinator

Parfait Kasongo is the Twende Mbele Communication and Learning Coordinator who started life as an engineer but later discovered his passion for facilitating storytelling and sharing new knowledge. His research interest includes regional politics, governance, social engineering, and international law. In a bid to expand his knowledge and understanding of law, parfait is pursuing a law degree with Wits University.

Amanda Deuchars

Programme Administrator

Amanda Deuchars is the Twende Mbele programme administrator